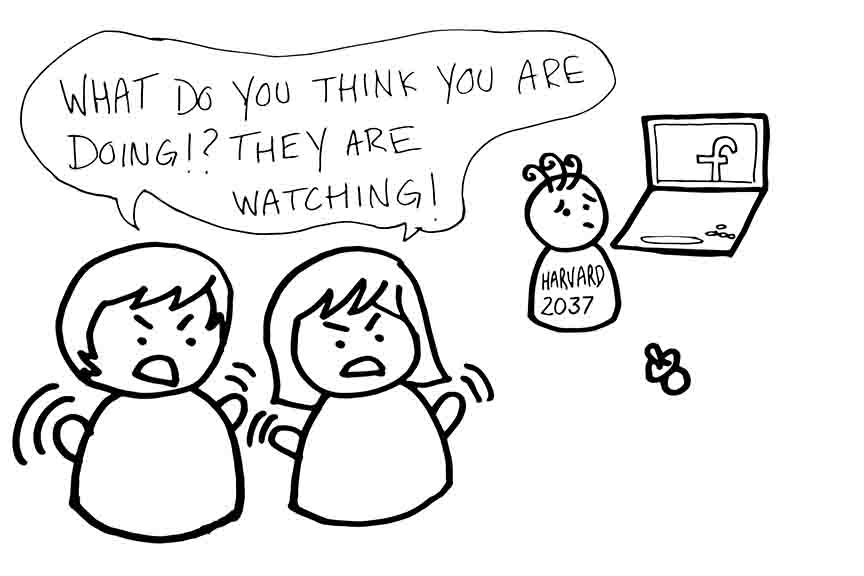 10 Harvard students recently had their offers of admission revoked for sharing "offensive" memes in a private 100-person group chat on Facebook.
This is shocking, but not unexpected. This is yet another chance a university had to promote reasonable principles but then cracked down on free expression—a trend that grew these past two years.
What is unexpected is that nobody is standing up for these students.
For years, people have predicted a future of privacy breaches and cultural sterilization. It was always the case that anybody who acts "badly" in public will be shunned. But as far-leftists ever-expand what "bad" is, and ever-expand what "private" is not, there is no stretch to imagine a sterile cultural climate where liberty and free expression are tossed aside to satiate the most powerful human emotion: fear.
Boundaries will not be pushed in public—there will be no vibrant, artful culture of provocation and experimentation. And yet, the boundaries of privacy will be pushed as PC police check: did you write anything offensive? The questions will soon be more invasive. You did not post anything offensive. But are you friends with somebody who did?
Harvard's actions show that this future is here. 20 years ago, this meme groupchat would have been ignored—dismissed as a juvenile pastime. At worst, the students would have been slapped on the wrist. Today, posting shoddy cartoons in a groupchat devoted to shoddy cartoons is supposedly such a marker of bad character that it warrants banishment.
And yet now, when all the predictions are coming true—there is quiet. Why is this?
There is no way to know, but my guess is that people are so desensitized to this sort of thing that this does not seem like a big deal. Or the culture of fear has already settled and people are picky with their battles. When students are expelled for their cartoons, what happens if I support them—or worse, what if I think they are funny?
But this case of thought-police is unique, and is a big deal for three reasons.
First, this is the first time that a major University rescinded students based on activity in a private group chat—or at least the first time it was publicized. Of course Harvard can do whatever it wants. We do not have a right to privacy in this country, and any laws on the matter are hazy at best. But this is what makes precedent and cultural norms even more important. It may be expected that a 100-person group chat will be made public, as happened here, but the students did have a reasonable expectation that they would not be monitored. This expectation was violated. Harvard set the precedent that there is no privacy in Facebook messages.
Secondly, these Harvard memes were nothing more than childish shock humor—to say otherwise means you understand neither humor nor offense. The group chat was created for the explicit purpose of creating "edgier" memes. They did not target groups or call for violence.
There is a blurry line when privacy, freedom of speech, and freedom of association stop to matter. The CIA and the NSA certainly know this. Rights may be ignored when there is potential for a threat—terrorist plots, heists, secret documents being exchanged. "Offensive memes by teenage boys" is not on the list. When Harvard chose to take action against students for memes, they dangerously moved this line. Rights can be violated not just when there is potential danger—they can be violated for benign civilian activity.
Third—if I think these jokes are funny, what does it actually say about me? Not much—other than I am either immature or have a surreal, dark sense of humor. These memes stem from an entire line of black comedy, no different from the "dead baby" jokes that you heard every day 10 years ago. But Harvard chose this as a litmus test for character. Harvard decided that an 18-year old who makes yo-mama jokes, dead-baby jokes, or engages in shock-humor is so toxic to the Harvard community that he should have no part in it. So toxic, in fact, that his taste in humor should overturn Harvard's initial, careful examinations of his SAT scores, course grades, letters of recommendations, essays, and other indicators that the student belongs at Harvard. This litmus test is not only wildly inaccurate, but it is in fact so inaccurate, that to use it would mean to change what it is purported to measure. If this is the test, then character does not refer to having honest moral convictions, but to displaying a shallow façade of political correctness.
This case is unique in that exceedingly drastic measures were taken against students who were having harmless fun pushing boundaries in a private groupchat devoted to pushing boundaries. To say that their memes were dangerous is ludicrous. What is dangerous is when we let the administration get away with this without putting up a fight. Standing up for these students is standing up for privacy, for freedom of speech, for freedom of association and for principles. But in this culture of fear that Harvard is promoting, standing up for them means standing for bigotry. And anybody who truly knows what is at stake for privacy will keep it to himself.
(These Harvard memes can be seen here)